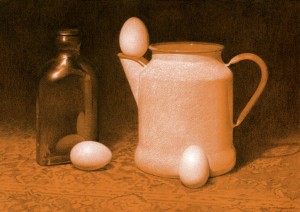 As an art professor, I'm constantly starting new projects for demonstration.  Unfortunately I seldom have the time to finish them.  This drawing started as a demonstration (as usual), but it was several months before I could spend any real time on it.  In fact, I did most of the work on it last June and July.
I started this drawing from life – I set it up in a corner of the painting studio at school.  I took several photographs before the end of the semester to use as reference, to finish the drawing at home.  (I prefer to work from life, but I don't mind finishing a piece using good reference photos).
Drawing does have some advantages over painting.  I can pick it up, or put it down at any time.  No mixing paint, no clean-up.  It has some disadvantages, though.  It took forever to build up the background.  What would've only taken a few hours with oil paint, took several days with charcoal.  Actually, it was while working on the background that I stumbled upon my new favorite non-art art tool – q-tips!
I put the finishing touches on this drawing a few days ago, and dropped it off at Finger Lakes Gallery and Frame this afternoon.  It will be ready for FLCC's biennial faculty art show which opens April 1st.