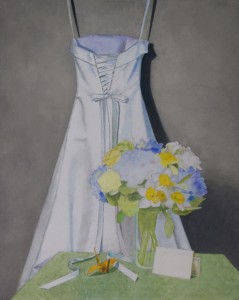 Over the last couple of days, I've been able to spend some time painting in my studio.  I decided to work on the background first, knowing that it wouldn't take too much time.  And since it takes up at least 1/3 of the entire surface, I could feel like I've made some real progress.  Putting time into working on the background was something impressed on me while I was a grad student at The New York Academy of Art.  Even if the background is negative space, it takes up so much of the painting that it shouldn't be an afterthought.
This isn't a large painting – 24 x 30″ – but it is larger than I've worked in awhile.  I had to make sure I mixed up enough paint when I started, so as not to run out half-way through!
So, I do feel like I've made some progress, but I'll have to spend a lot more time working on this to have it done on time.  I should finish the table cloth today – it won't take long.  Next, I'll tackle the flowers.  That will likely take the longest, and I don't want to rush on them.