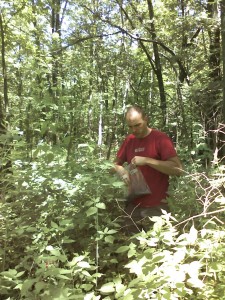 Last week, I heard a segment on The Splendid Table about foraging for food. The chef being interviewed, talked about hunting for (and finding) foods that seemed a little too exotic for my tastes. But I have done my share of foraging – mostly for wild blackberries.
Along one of my regular jogging routes I discovered some wild blackberry bushes. So yesterday, with a gallon storage bag tucked away in my pack, I went out for a jog and some berry picking.
I planned to go out for 2.5 miles, knowing that I would hit the berry patch on my way back (getting at least 4 miles in depending on my "haul"). I checked on the patch on my way through, but sadly, it was't ready (maybe in another week). So I kept jogging. It was't long before I came to another patch, and they were beautiful! I ran another mile down the road, then headed back for picking.
Between my jog and berry picking I was out for almost 2 hours! (Thank goodness it was overcast, or I could've gotten really sunburnt).
My endeavor netted me almost 1.25 lb of blackberries – and I had to leave quite a few there (many I couldn't reach, and I was pretty tired).
I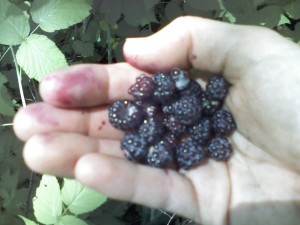 talked my husband Jake into going out with me today to help me get the berries I couldn't reach the day before. This time I was armed with long sleeves, leather gloves, and a folding pair of pruning shears.
I think we did a good job of getting the rest of the berries that were ready. There should even be a fair amount ready in a few more days.
While we were riding back home (we had taken our mountain bikes out to save time), Jake found another patch that I hadn't noticed before. Most of the fruit was ready to be picked – finding 6 and 7 ripe berries in a bunch!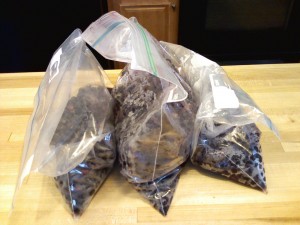 From here we headed home and I was eager to see how much we had. The scale revealed another 1 lb 12+ oz, making our total over 3 lb!
Now I need to decide what to do with my unexpected blackberries. Jake has already put in his vote for a pie. I might even have enough for some jam as well. What do you think?