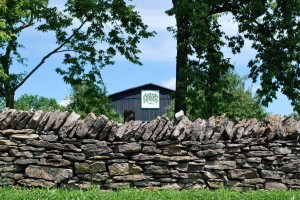 Last year I traveled with my husband to Kentucky for spring break.  While we were there, we visited the Shaker village at Pleasant Hill.  Since then, I have been obsessed with creating dry stacked stone walls around our house and garden.
Last weekend we got some mild temperatures and a few breaks from the rain, and I decided to build a wall.  Jake had dug up a lot of flat stones while clearing out the crawl space under our back room.  Flat stones are the best for dry-stacking, so I had a lot to work with.
After 2 days, a sore back and tight hamstrings, I finished my rock wall.  Well, to call it a wall might be generous – it's only about a foot high.  Then Jake filled the interior with soil from our compost pile.  Even though the area is pretty shaded, I think it will be a nice place for flowers.