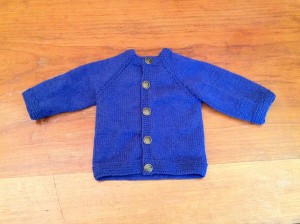 There is a long list of projects I want to start this summer.  But I realized that there are a number of things that needed to finish up before I start something new.  At least 2 of these projects are knit projects, which are hard to get excited about at the beginning of June.  But I buckled down and finish a baby sweater, and a pair of "smart" gloves.  This sweater is a variation on Elizabeth Zimmerman's "Nearly Seamless Sweater".  Mine is actually seamless.  I even used double pointed needles on the sleeves!  Yes, it takes a little longer to work that way, but I'm much more likely to finish it that way.  Otherwise I end up with a pile of sweaters with seams to stitch up, and buttons to put on.The pattern is a straight stockinette stitch with raglan sleeves.
The yarn is called Sensations "Sublime", and is a sport weight.  I bought it from Jo Ann Fabrics on clearance.  It's one of the softest yarns I've found, which makes it perfect for a baby sweater.  I also love that it's not a pastel color.  Not that I have anything against pastels, but it is nice to have some stronger colors – especially when I'm knitting for a baby boy.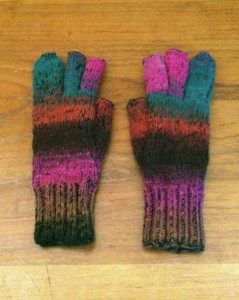 The smart gloves are a combination of mittens and fingerless gloves.  This was my first winter with a smartphone, and I realized I was taking off my mittens or gloves every time I needed to use it.  I tried switching to my fingerless gloves, but on cold winter days, they just didn't cut it.  So I looked to my cycling wardrobe and my lobster claws, which are a combination of gloves and mittens.  For winter activities, they offer both dexterity and warmth.  But I still wanted to be able to move my fingers, so I separated the middle and index fingers.  And of course, I needed to clip the tip off a few of the fingers.  I haven't seen anything quite like these.
I used a combination of Noro, for color and Lion Brand cashmere (which really only contains 13% cashmere), for softness.  I knit the 2 yarns in such a way that the Noro stayed mostly on the outside and the cashmere stayed mostly on the inside.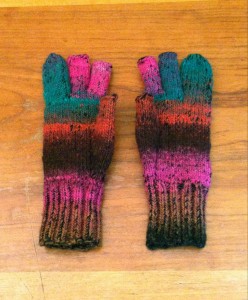 Now, on to my next project!